"My new favorite daily drinks! Keeps me hydrated and energized when I work out. And I don't have sudden cravings anymore. I love the results!"

- Panky, Verified Customer
JUJU DIET/DETOX & SPORTS NUTRITION BUNDLE: The best effervescent combo to achieve your fitness goals and reveal your best self ever.
Estimated delivery:
Thu, Dec 07 - Sat, Dec 09
View full details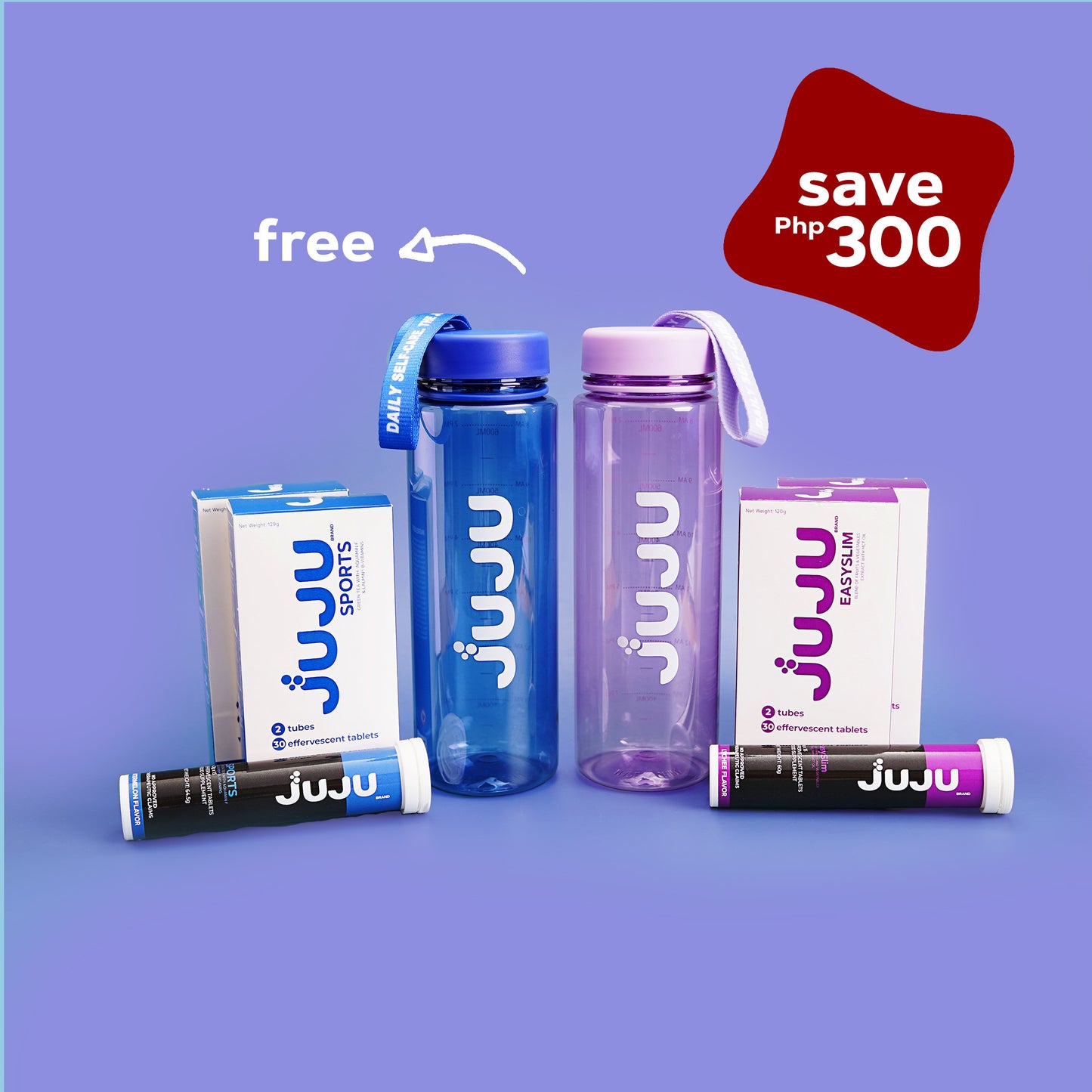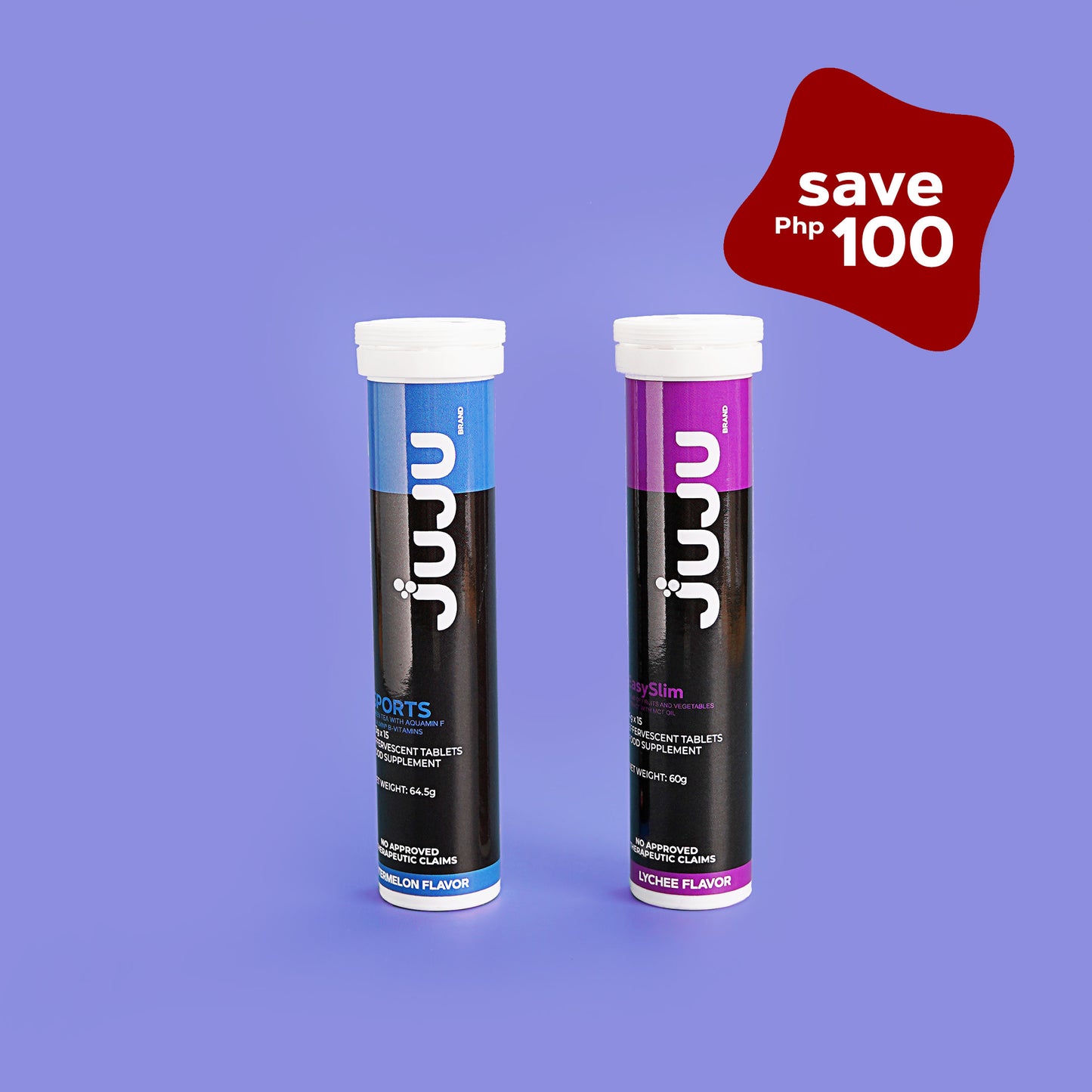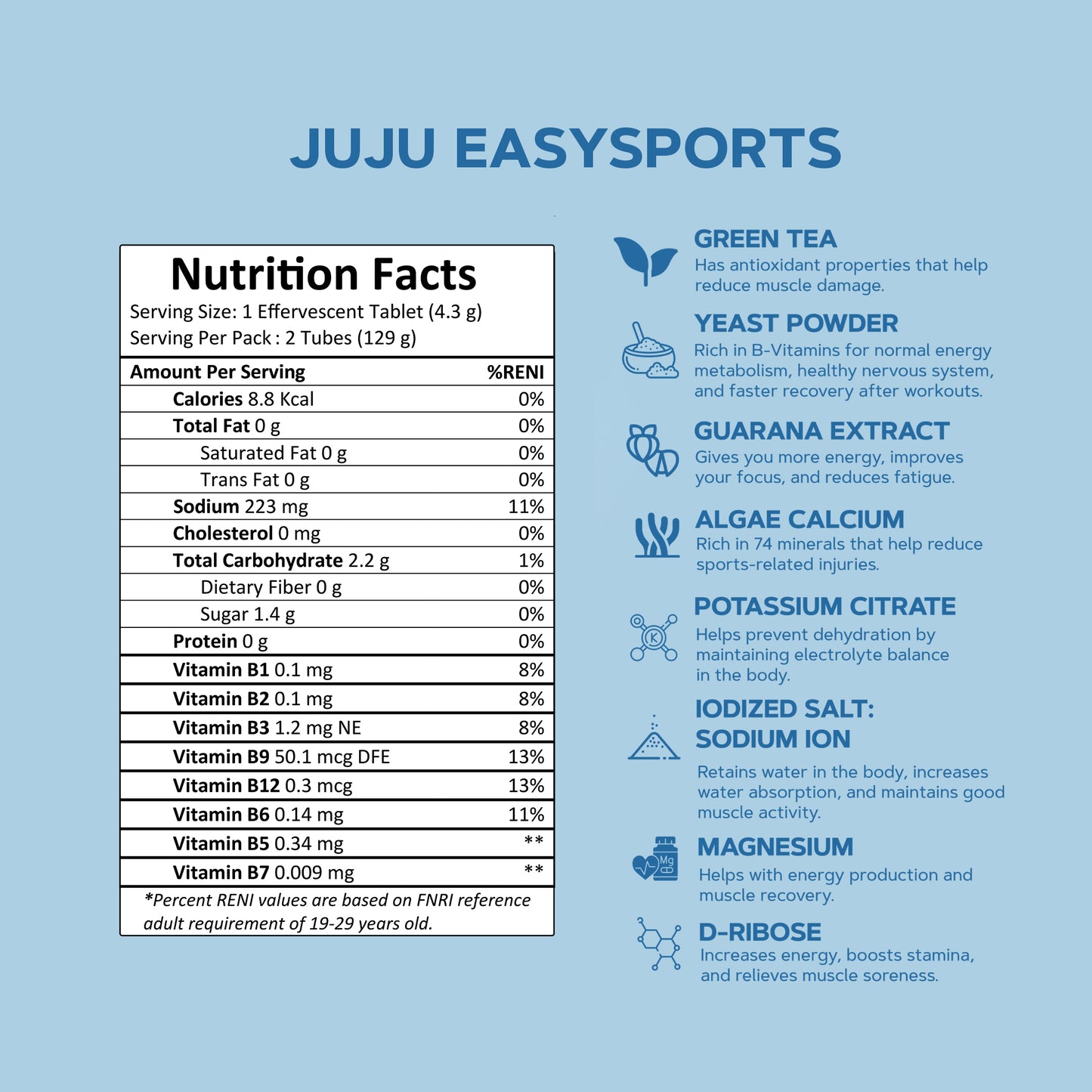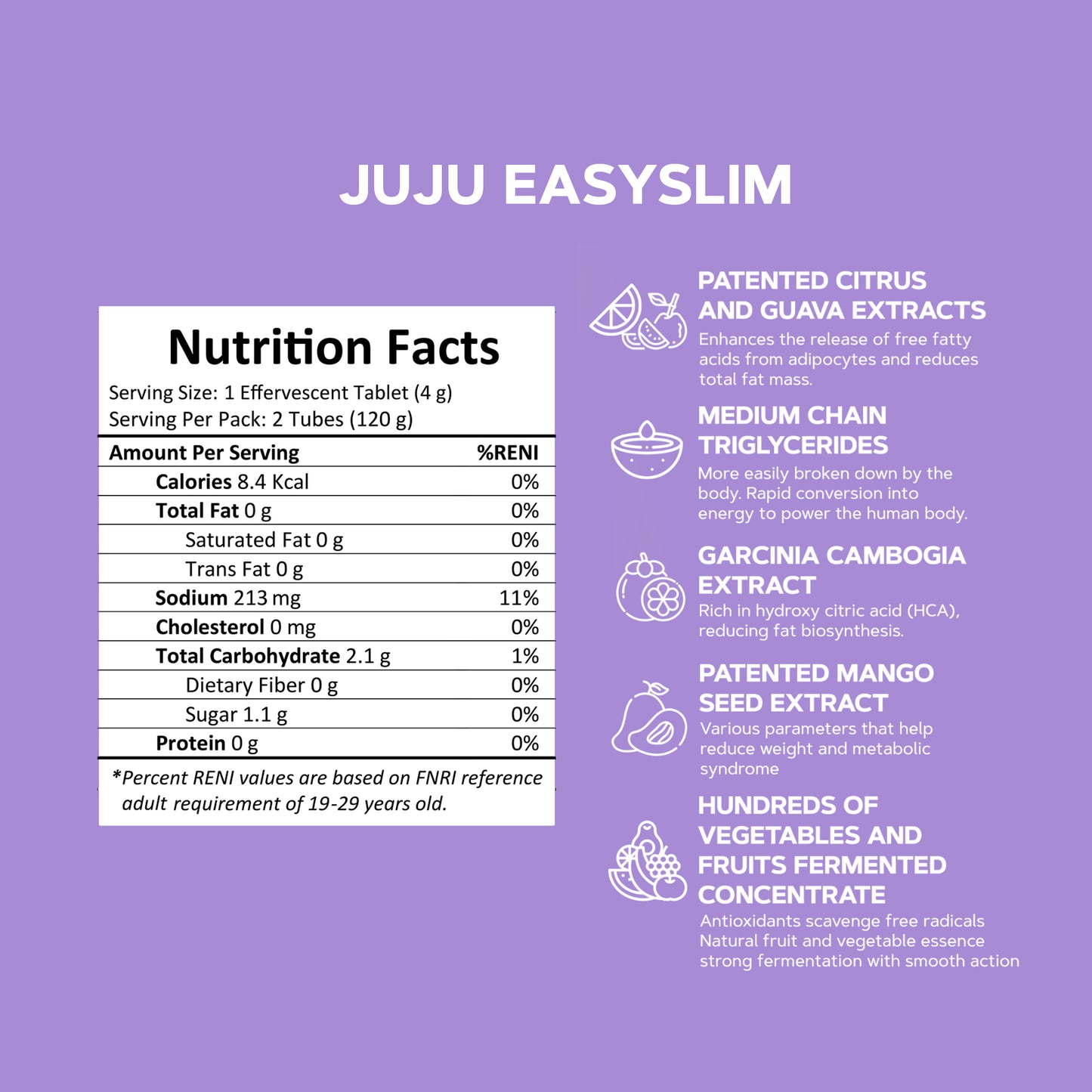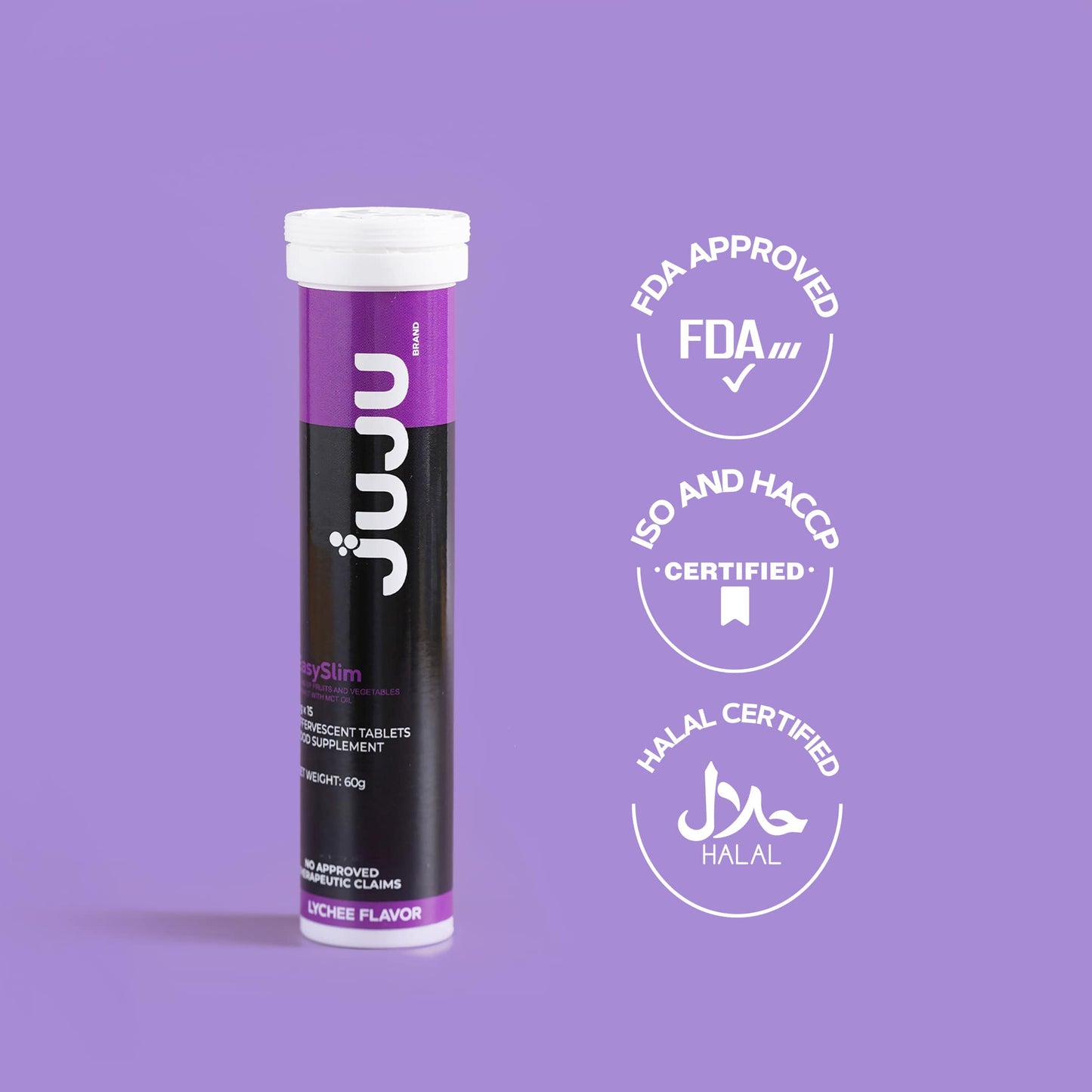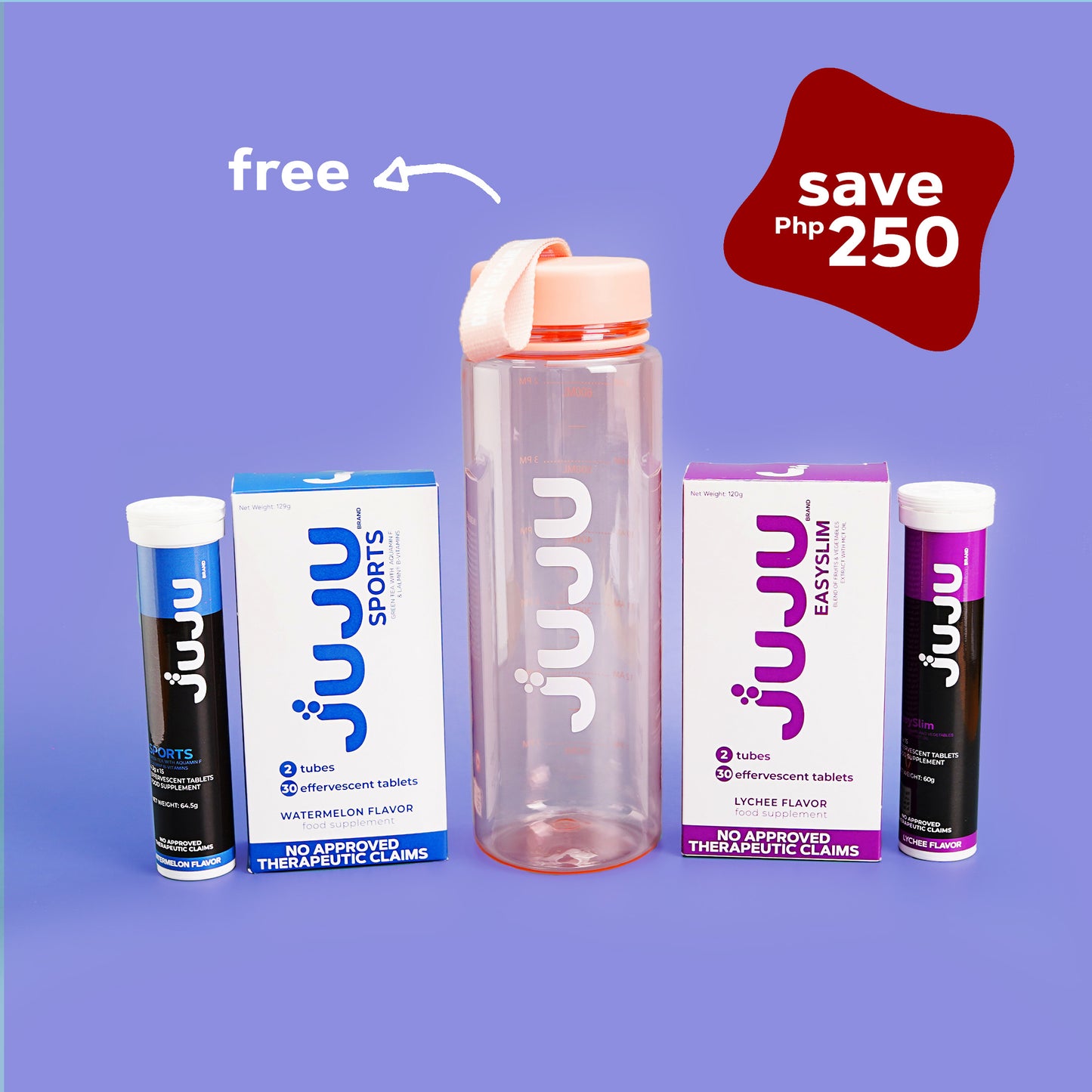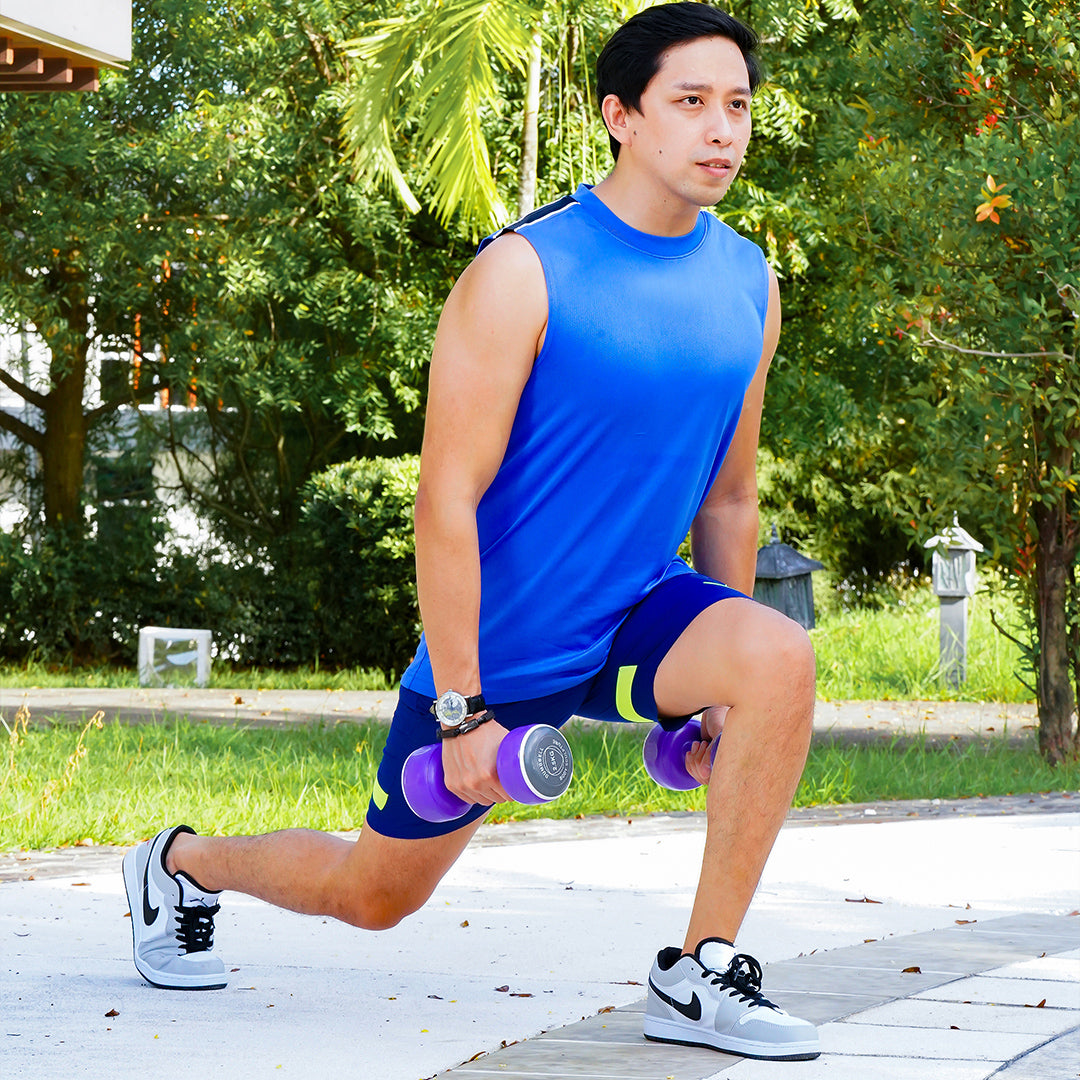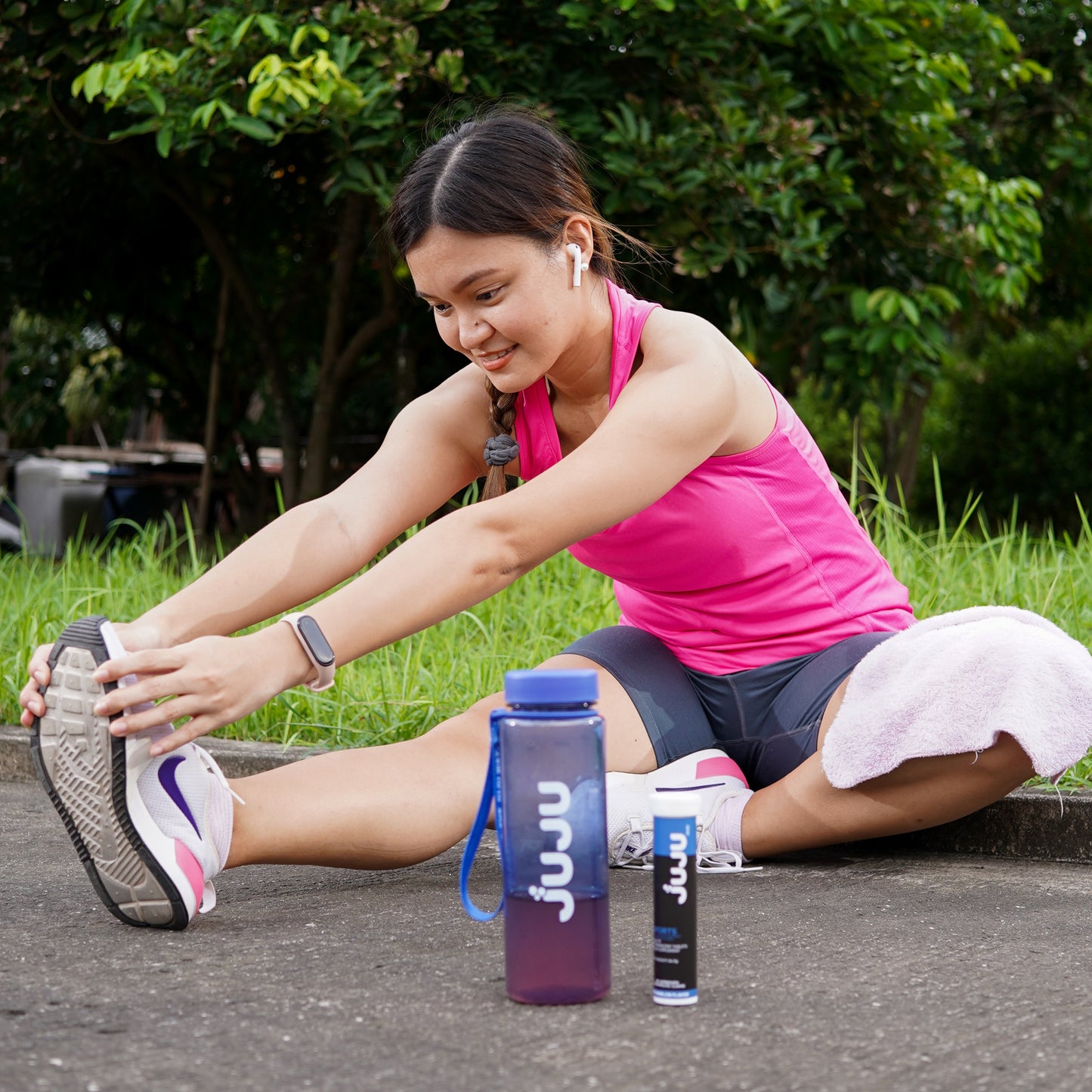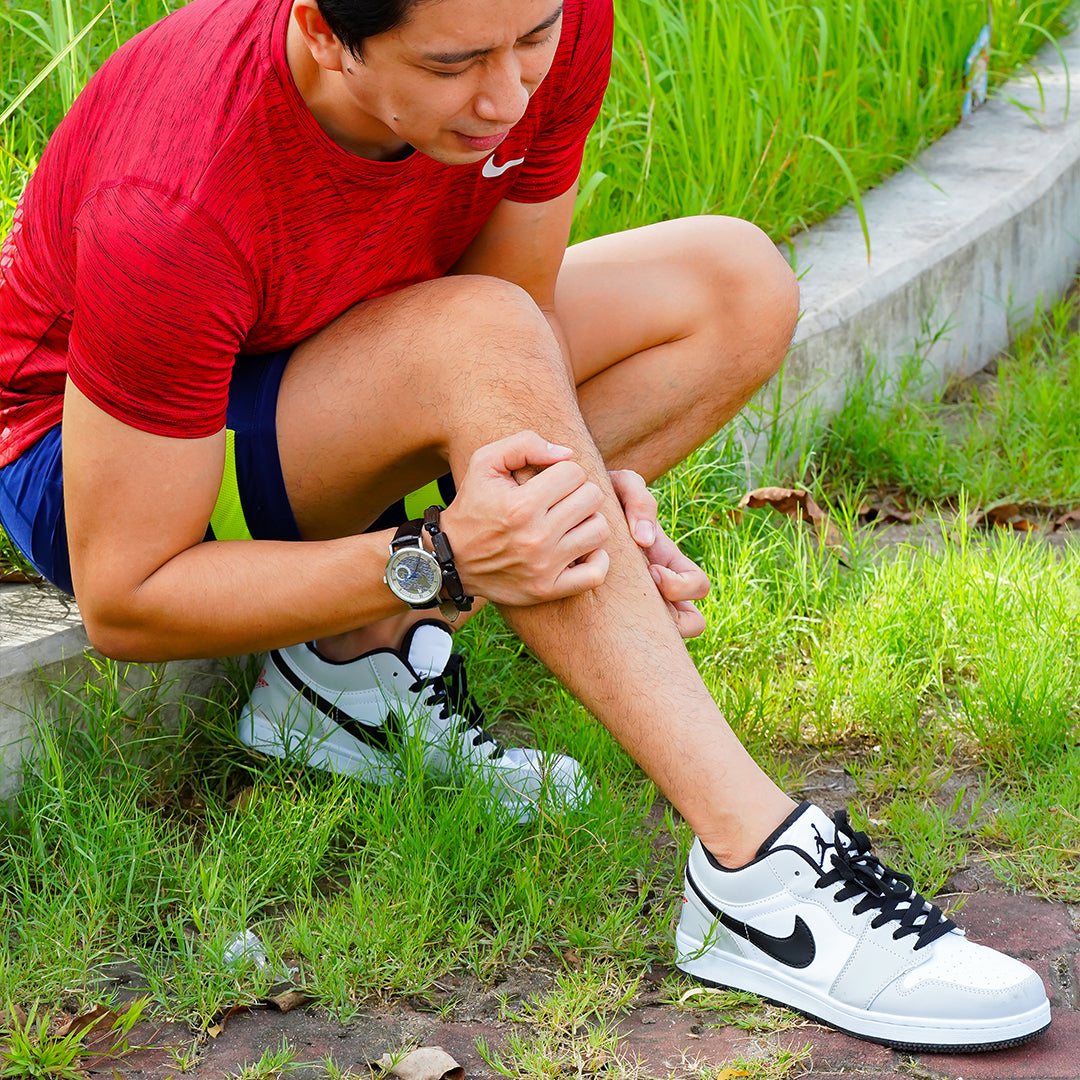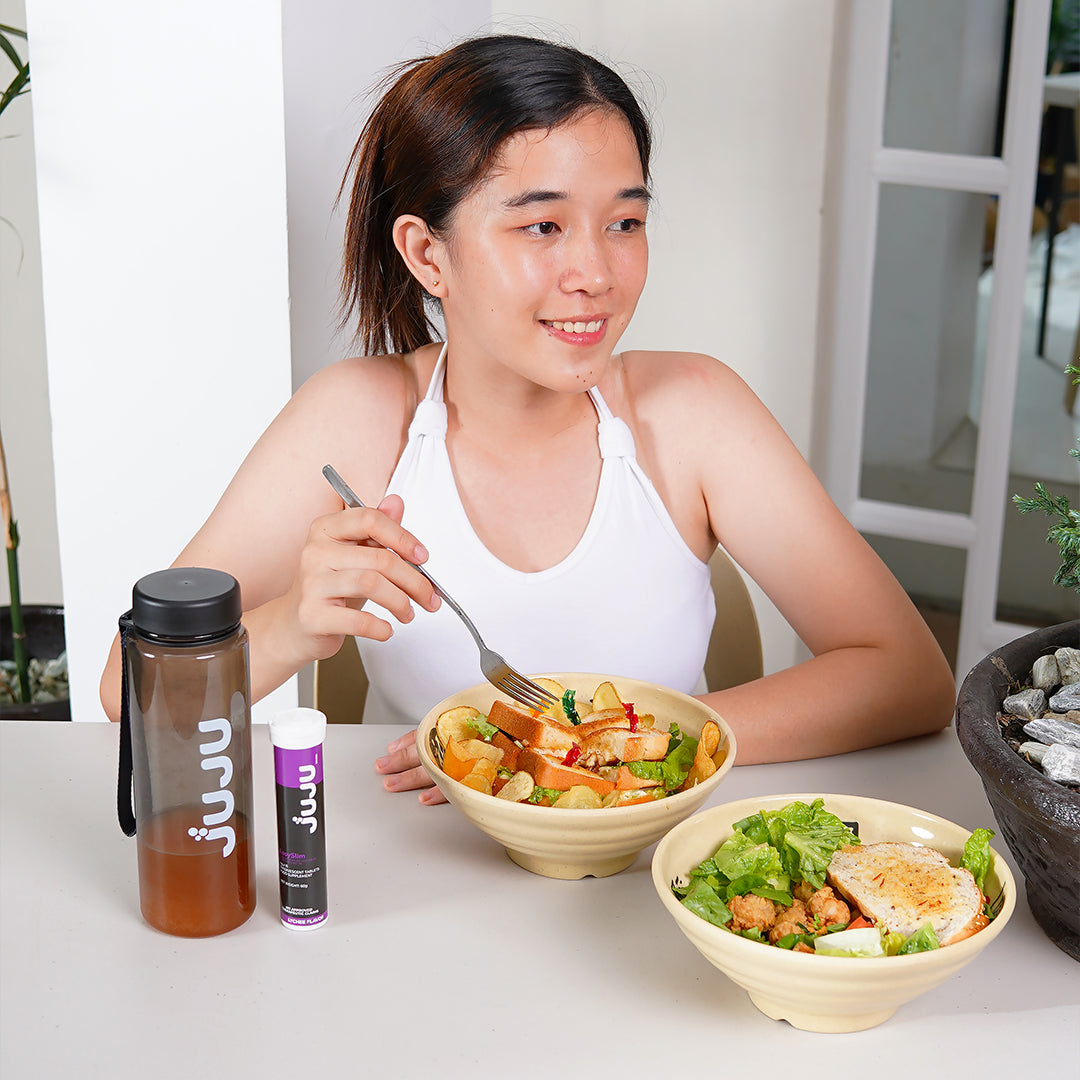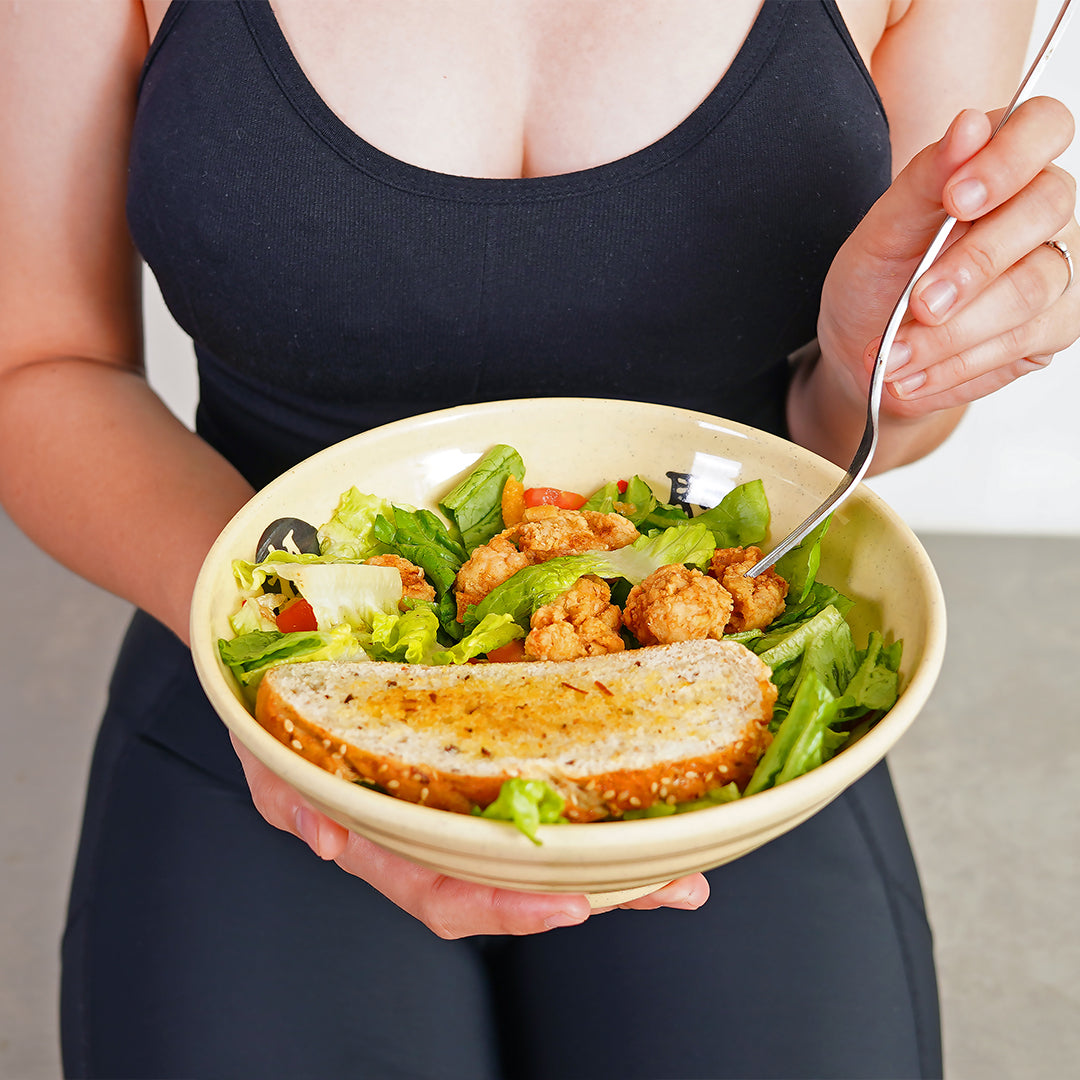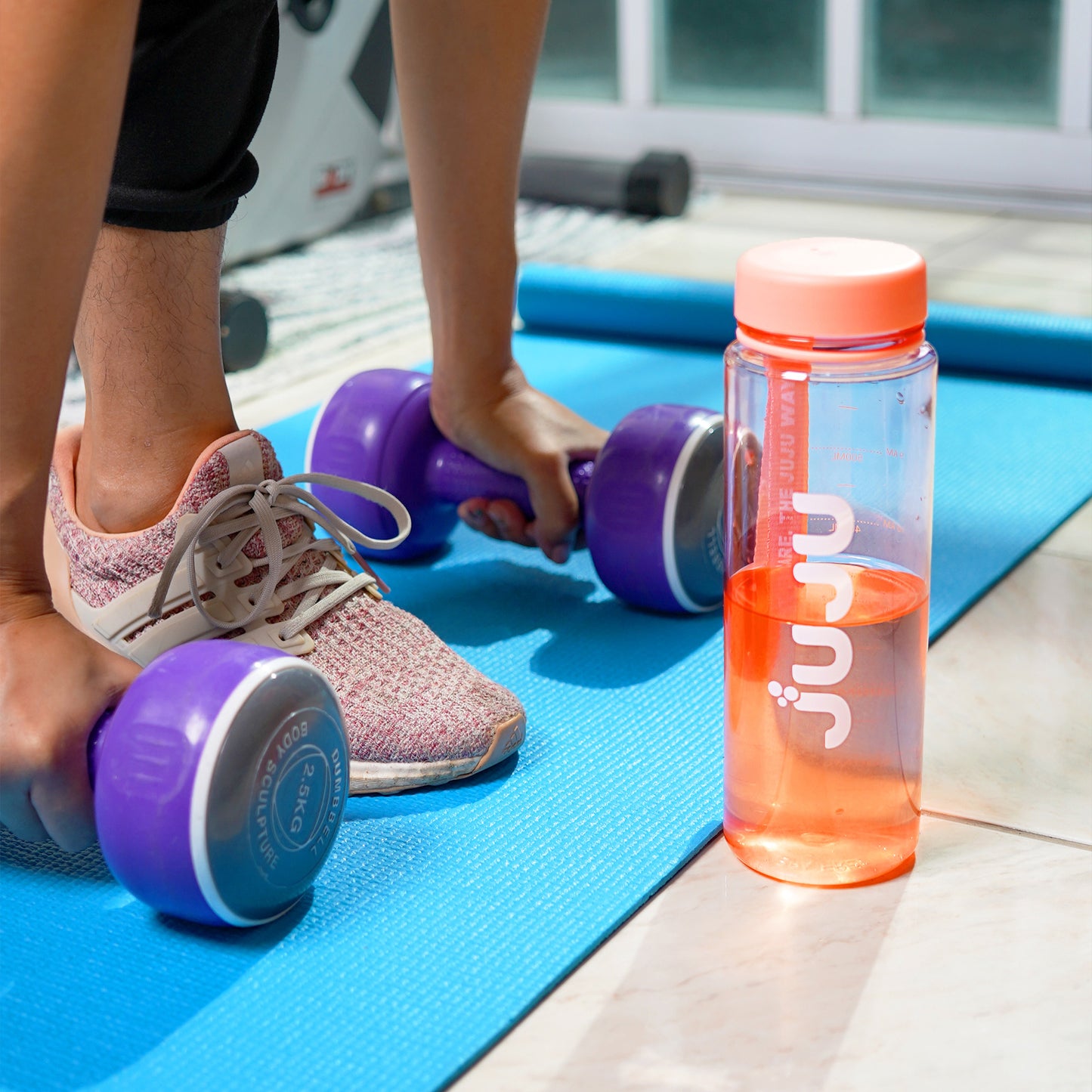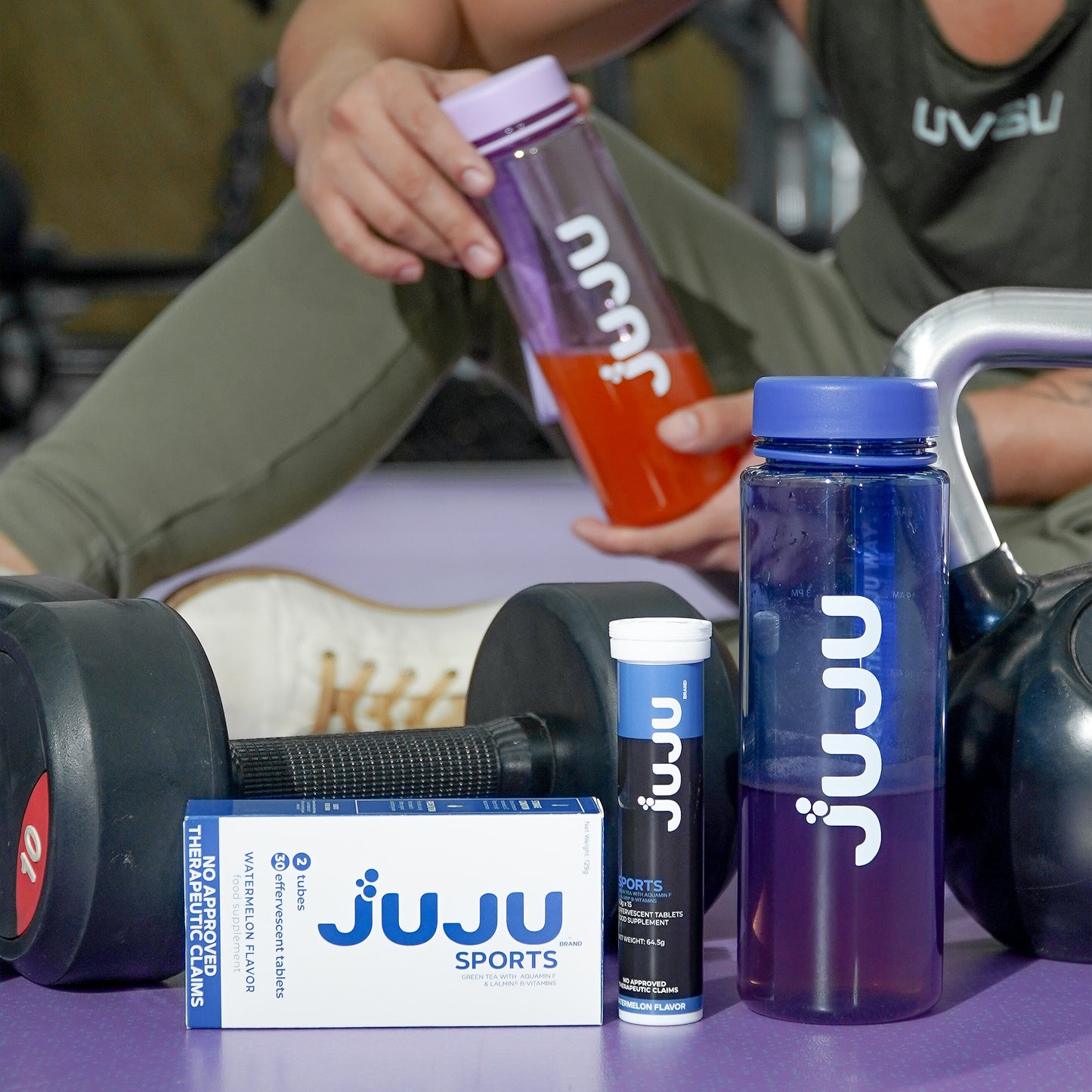 START A HEALTHIER LIFESTYLE WITH JUJU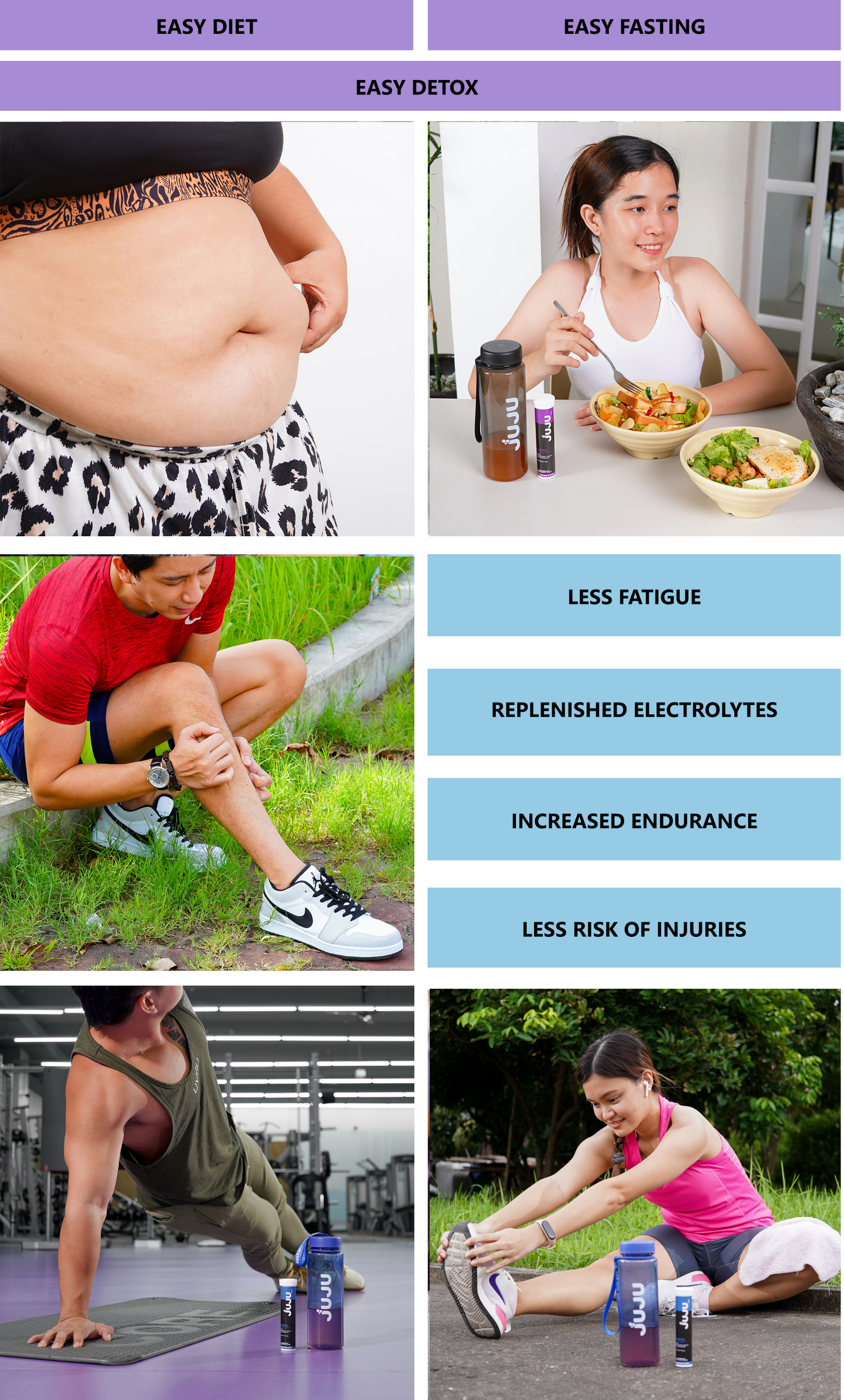 FLUSH OUT YOUR BODY TOXINS.
Packed with antioxidants to help cleanse your body and protect it from free radicals.

SAY GOODBYE TO BINGE-EATING.
No more sudden urge to reach for those treats. This drink helps control your appetite.
BETTER METABOLISM. BETTER NUTRIENT ABSORPTION.
More than just weight management. You'll have more energy to power through your day, too.

SWEAT MORE. WORRY LESS.
Juju EasySports refills electrolytes, fights fatigue, prevents muscle cramps, and lowers the risk of injuries. 

ALL THE ENERGY YOU NEED TO KEEP GOING.
With Guarana Extract to wake you up, improve your performance, and boost your endurance.

POST-WORKOUT QUICK RECOVERY.
With Green Tea Extract to reduce muscle inflammation and muscle damage, and helps your body recover faster.
GET THE JUJU GLOW TODAY
Looking for the best value? Save more and get a FREE JUJU tumbler when you order 2 or more boxes.
Regular price

Php1,299.00

Regular price

Php1,399.00

Sale price

Php1,299.00

Unit price

per

Regular price

Php2,449.00

Regular price

Php2,699.00

Sale price

Php2,449.00

Unit price

per

Regular price

Php4,699.00

Regular price

Php4,999.00

Sale price

Php4,699.00

Unit price

per
GET THE JUJU GLOW IN 3 EASY STEPS:
STEP 1: DROP

Get a glass of water and drop one JUJU tablet

STEP 2: FIZZ

Watch the tiny bubbles and wait for it to melt. Don't worry, it won't take long!

STEP 3: DRINK

Once it stops bubbling, time to enjoy your lychee-flavored drink.
Dianne (Juju Easyslim)

I lost my confidence because of my weight gain. Good thing I found Juju EasySlim na naging partner ko. Bumilis ulit ang metabolism ko and nabawasan ang appetite.

AJ (JUJU EASYSPORTS)

Helps me feel really good during and after workout. Hindi na nakakatamad at nakakapagod mag-exercise.

Jeanne (Juju Easyslim)

Partner in healthy eating! Tamed my appetite. No more junk food cravings.

Enver (Juju Easysports)

I used to have dehydration-migraine kasi intense ako mag workout. Juju EasySports helped me get rid of it while I stayed on top of my routine.

Joelle (Juju Easyslim)

This product helps me fight cravings!

Marc (Juju Easysports)

Perfect hydration partner during a killer workout! My new favorite drink!

Nicole (Juju Easyslim)

I super love it! This gave me an extra boost in my metabolism.

Miguel (Juju Easysports)

I can literally chug down a liter because of the great watermelon flavor. This is one of the best parts of my fitness routine.

Michael (Juju Easyslim)

Hindi na ako bigla nagke-crave. Na-suppress yung appetite ko kaya mas nakakakain ako ng tama, with satisfaction, and without the guilt na nararamdaman ko when I overeat.

Jillian (Juju Easysports)

Hydration is so important, especially in our weather. Sobrang init sa Pilipinas at mabilis akong magpawis. I don't just use Juju EasySports inside the gym, I always bring it anywhere I go.

Roseanne (Juju Easysports)

For everyday use lalo na sa katulad kong madalas magpawis. It's now one of the staples of my bag dahil hindi lang nagagamit while working out in the gym, panlaban din sa init at humidity. I'm always hydrated because of Juju EasySports

Elixer (Juju Easysports)

Drinking water isn't the same without Juju EasySports. Mas lalo akong napapadami ng inom at sobrang sarap ng flavor.
Frequently Asked Questions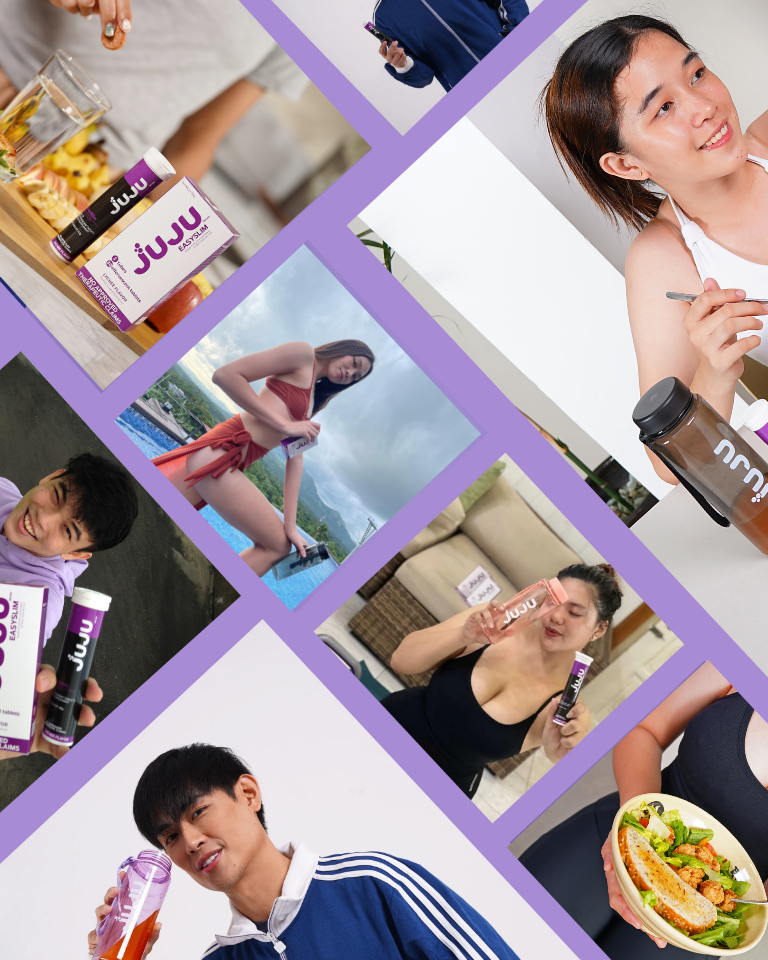 HOW MANY TABLETS DO I NEED TO TAKE BEFORE SEEING THE RESULTS?

We recommend taking 1 tablet for maintenance and 2 tablets for optimal effect.
WHAT EFFECTS WILL I SEE AFTER TAKING JUJU EASYSLIM?

The initial results are reduced cravings, feeling more light and active, having more energy to move around, and regular bowel movements.
WHAT IS THE BEST TIME TO TAKE JUJU EASYSLIM?

We recommend taking it at night before bedtime.
IS JUJU EASYSLIM EFFECTIVE EVEN WITHOUT WORKING OUT?

Yes, but the results will show slower. We recommend squeezing in at least 30 minutes of exercise for faster and better results.
ARE THERE ANY SIDE EFFECTS?

Because it is considered a food supplement, Juju EasySlim does not have side effects.

If you feel a minimal case of nausea or an upset stomach. It would be best to take it during or after meals.
IS IT SAFE TO TAKE IT ON AN EMPTY STOMACH?
CAN I DRINK JUJU EASYSLIM IF I HAVE HYPERTENSION AND TAKE MAINTENANCE MEDICINE?

Yes, but it's best to take it 1-2 hours after your maintenance medicine.
IS IT STILL EFFECTIVE WHILE TAKING WHEY PROTEIN?
CAN I DISSOLVE JUJU EASYSLIM IN HOT WATER?

Yes, but some active ingredients are sensitive to hot temperature and may lessen its efficacy.
IS IT STILL EFFECTIVE AFTER DRINKING ALCOHOL?

Yes, but the effect would not be optimal since alcoholic drinks are not good for our body.
CAN IT BE TAKEN BY PEOPLE WITH KIDNEY AND LIVER CONDITIONS?

We recommend consulting your physician first.
HOW CAN I INCORPORATE JUJU EASYSLIM IN A CALORIE COUNTING DIET?

Check the nutrition facts to see the calories per tablet.
IS IT EFFECTIVE FOR PEOPLE WITH PCOS?

Easyslim targets reducing fat and removing body toxins. It might help but not actually remove the cause of weight gain. PCOS weight gain is due to imbalanced hormones – Juju EasySlim might be able to help but not completely solve the cause of weight gain.
IS IT GOOD FOR PEOPLE FOLLOWING A KETO DIET?

Currently, Juju EasySlim contains glucose that may delay your progress while on Keto diet. All ingredients will soon be keto-friendly in the next few months as we develop the product.
Frequently Asked Questions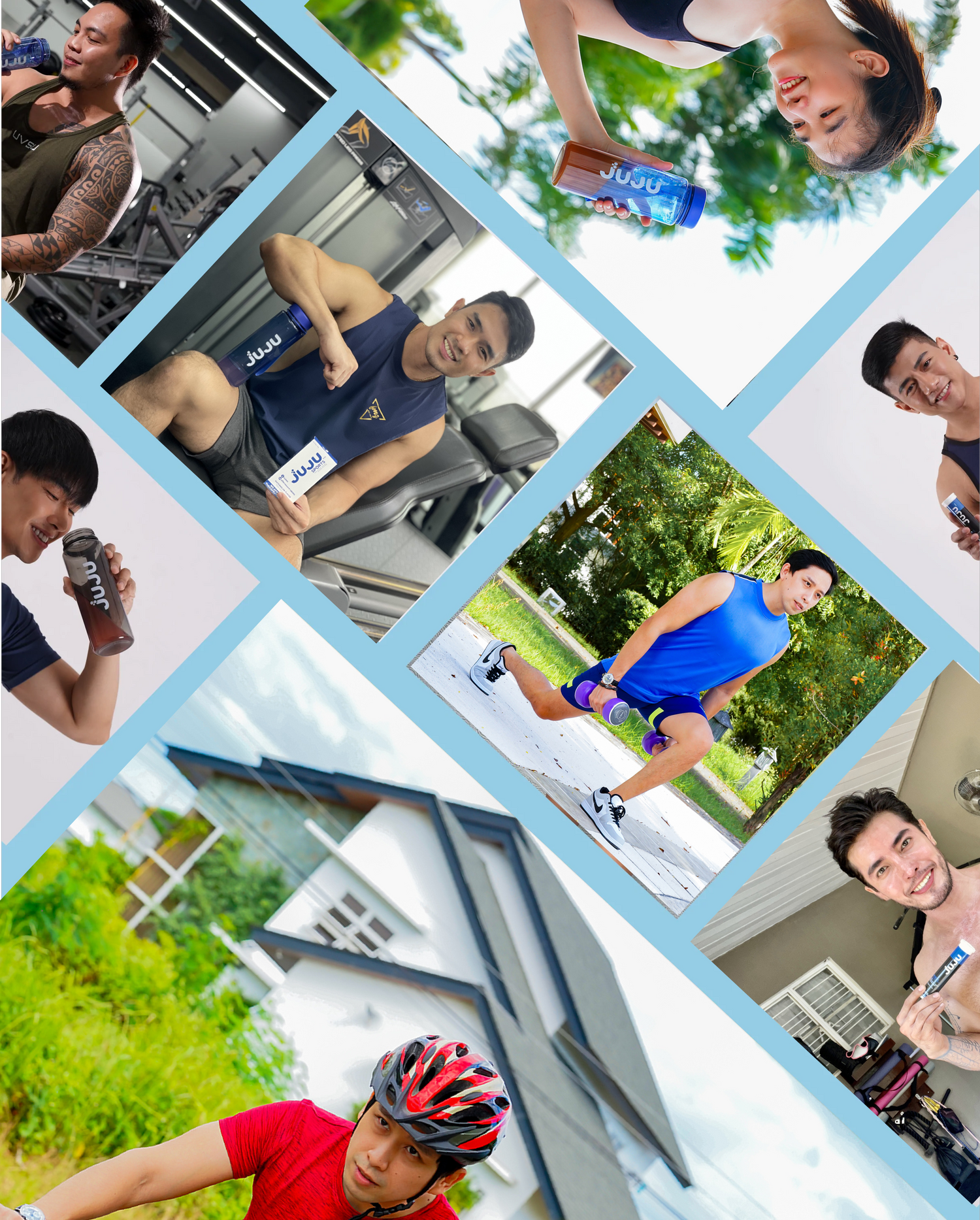 HOW DOES JUJU EASYSPORTS WORK? 

It replenishes the electrolytes lost during exercise and boost athletic performance by inhibiting muscle fatigue, improving heart function, and increasing energy.
CAN SENIORS TAKE JUJU EASYSPORTS? ANY SIDE EFFECTS?

Yes. Juju EasySports is a great supplement to replenish their electrolytes and increase their energy. There's no side effect.
WHY IS THERE NO VIT C CONTENT ON JUJU EASYSPORTS?

Juju EasySports focuses on the electrolytes for body hydration. Essential electrolytes are Sodium Ion, Potassium, Calcium and Magnesium.
CAN I TAKE JUJU EASYSPORTS IF I'M ON A KETO DIET? HOW ABOUT IF I'M DIABETIC?

Yes, you can take it if you're following a Keto diet. And yes, it's also safe for diabetic patients as long as they follow the proper calorie and Sugar requirements.
IS IT SAFE FOR PEOPLE WITH HYPERTENSION?
IS IT SAFE FOR PEOPLE WITH KIDNEY AND HEART CONDITIONS?

We recommend consulting with your physician first.
IS JUJU EASYSPORTS ALL-NATURAL?

All active ingredients are natural, but the non-active ones might have synthetic ingredients.
CAN JUJU EASYSPORTS BE TAKEN ON AN EMPTY STOMACH? 

Yes. But if you have a sensitive stomach, it would be best to take it after a meal.
DO I NEED TO CONSUME JUJU EASYSPORTS IMMEDIATELY ONCE DISSOLVED?

As long as it is not exposed to high temperatures, this can be taken 1-2 hours after dissolving in water.
IS IT VEGAN/VEGETARIAN FRIENDLY? 
WHAT IS THE MAXIMUM DAILY INTAKE?

You may take 1 tablet in the morning after your workout and 1 tablet at the end of the day.
CAN I ADD MORE WATER WITHOUT AFFECTING THE BENEFITS OF THE PRODUCT?

Yes, you can add more water.
CRUELTY-FREE? NOT TESTED ON ANIMALS?